Meet The Doctors at 8 Dimensions Health Center
Dr. Russ Hollinger, Chiropractor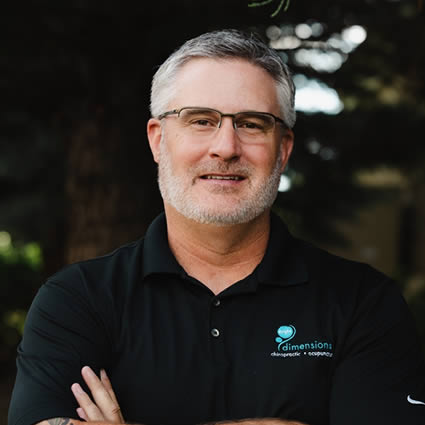 I was born and raised in Reno and have been in active chiropractic practice since 1998. Growing up, I wasn't raised to run to the doctor for much of anything and I certainly didn't know anything about chiropractic. I always knew I wanted to chase a career in health care and I planned on getting a degree in Physical Therapy.
Thankfully, I met a chiropractor who suggested I look into chiropractic as a career. He gave me a job working with patients in his clinic and within 2 weeks of talking with people about their chiropractic experience, I changed paths and was headed to chiropractic school. We remain great friends today and I owe him a great deal of gratitude.
EXPLORE OUR SERVICES

A Chiropractic Journey
My passion for chiropractic began with my own story! I had injured my lower back numerous times in high school weight training and ignored the problem for many years. One day, while in the gym, I felt my lower back tensing up and before I could gather my things to head home, I lost function in my right leg. I was literally dragging my leg around with me, crawling to and from the bathroom, and it would take me 20 minutes to get out of bed. Chiropractic saved my life! Of course, I still deal with ongoing lower back and right leg issues, however, without chiropractic care I would not be living the life I live today.
As a graduate of the University of Nevada, Reno and Palmer College of Chiropractic-West, my passion is to help people live healthier lives without the use of drugs and surgery. I want to help people avoid the challenges I've lived with. Our community suffers from so many health problems unnecessarily and we want to be THE place to go to not only feel better, but function better as well.
When I'm not in the office, I can usually be found chasing my 2 girls around in whatever adventures they're involved with. I love playing golf, traveling every chance I get, and when I have a moment at home—hang out with family and friends.
Dr. Brook Hollinger, Acupuncturist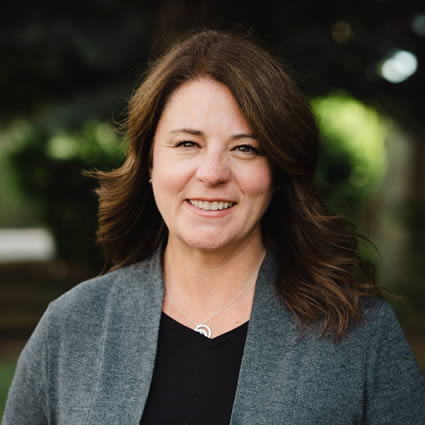 Born and Raised in Northern Nevada, I found my path to acupuncture school after I had already graduated from the University of Nevada, Reno with a Bachelor of Science in Health Sciences. I knew I wanted to be a part of the medical field, I just wasn't sure what that looked like. Shortly after graduating, it turned out that my mom would help me find my way to acupuncture. She had debilitating migraines and found relief through acupuncture treatments and suggested I see if it interested me. I truly believe it was meant to be my path.
A New Path
Almost immediately, I moved to San Diego and went to Pacific College of Oriental Medicine and was licensed in 2003. I love being in my office, getting to meet patients and connect with them, and learning from every person who enters my treatment room. I love figuring out what each person needs and using the unique way TCM looks at the body to figure it out. The opportunity for healing through TCM truly feels limitless to me.
In my time away from the office, I value my time with my husband, two girls, family and friends. I love to travel, spend time outdoors hiking and walking and being in Tahoe. I love music and will go to any concert or listen to live music.
Dr. Cameron Smith, Chiropractor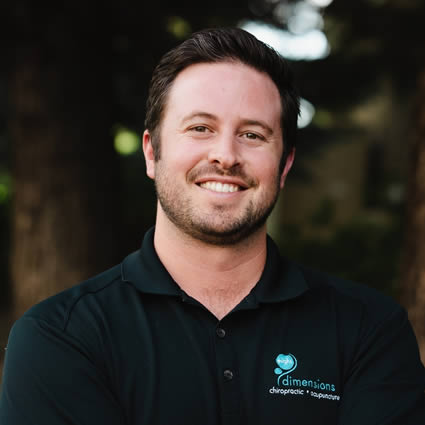 I moved to Reno in 2020 after finishing chiropractic school in Whittier, California. I have been involved with chiropractic since I was a child, receiving my first adjustment at 2 weeks old from my father, who was also a chiropractor.
I picked Chiropractic as a career after receiving an undergraduate degree in Kinesiology from California State Long Beach. I love how chiropractic offers a non-drug, alternative approach to healthcare and can help people of all ages. Also, I can relate to what my patients are experiencing—after having a serious low back injury myself, Chiropractic was the treatment that helped me the most.
I am a neurologically focused Chiropractor understanding that the Nervous System is the main control center of the human body. If there is interference to the Nervous System, that's when health conditions arise due to stress. I work to improve your nervous system function to allow your body to function optimally!
Outside of the office, I am an avid mountain biker and will likely see you on the trails! I look forward to meeting and seeing you in the office soon!
---
Meet the Doctors at 8 Dimensions Health Center | (775) 324-4008